How does the GentleWave Ultracleaning procedure work?
The GentleWave System uses advanced fluid dynamics to create a vortex of procedure fluids that travel through your root canal system. Along the way, broad spectrum acoustic energy helps remove the tissue and debris that cause infection.
Unlike standard root canal treatments, the GentleWave Ultracleaning Procedure is able to reach all throughout your tooth even in the microscopic places where bacteria can hide.
The specialists at the Center 4 Smiles have advanced training in the use of a state-of-the-art dental operating microscope.
All endodontic care is provided using this technology to magnify and illuminate the area of concern for Dr. Prusakowski and his dental assistant.
The result is unparalleled access and view of the intricate internal canal systems of our patient's teeth and a more predictable outcome.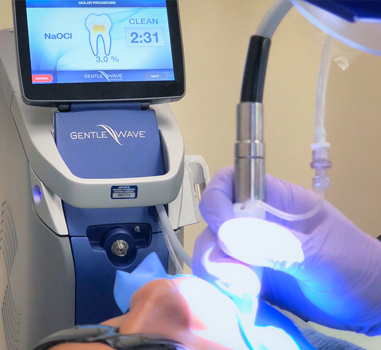 GentleWave Specialist
The GentleWave procedure is performed by Dr. Prusakowski in our Boca Raton office. Getting to know your doctor before any procedure helps alleviate some of the stress and anxiety that comes along with any surgical procedure. Check out the doctors individual bio page for more information.
When you are ready to schedule your consultation, please give us a call at (561) 477-7171 and one of our office assistants will help schedule an appointment that is convenient for you or click the button below for office and contact information.