This is a procedure for those with small teeth, teeth with excessive gums, or if there are problems laying below the gum line. Our doctors use a gum re-positioning technique to extend the amount of usable tooth available.
This procedure is normally required because of a short tooth, excessive gums, a fracture below the gum line, or old fillings and decay that extends below the gums. The procedure is performed to re-position the gum tissue from around the tooth, or teeth, to extend the length of the usable tooth for a proper crown fitting to occur. All crown-lengthening procedures require a small amount of bone to be removed to re-position the gums.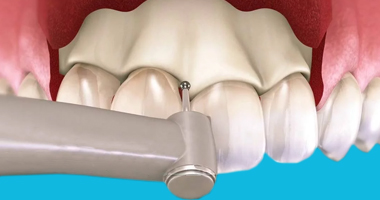 Crown Lengthening Specialists
The crown lengthening procedure is performed by both Dr. Orphanos as well as Dr. Hescheles in our Boca Raton office. Getting to know your doctor before any procedure helps alleviate some of the stress and anxiety that comes along with any surgical procedure. Check out their individual bio pages for more information.
When you are ready to schedule your consultation, please give us a call at (561) 477-7171 and one of our office assistants will help schedule an appointment that is convenient for you or click the button below for office and contact information.