All on 4®
Get Your Smile Back All in One Day!
The All on 4® Dental Implant procedure was developed in the early 90s but has been perfected by our office through the years. This specialty dental procedure allows four implants and teeth to be placed all in one day. Both Dr. Orphanos and Dr. Hescheles are experts in the All on 4® procedure.
Dr. Orphanos lectures nationally and internationally on the All on 4® dental implant procedure and has an educational center where other surgeons come to learn the technique. Very few surgeons are trained to perform the All on 4® dental implant procedure, but our office has been doing this technique regularly for years now.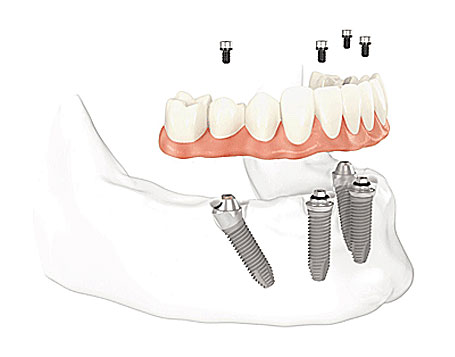 More Natural Than Dentures
You can fully restore your natural smile with the All on 4® dental implant procedure. It can be utilized on the upper or lower jaw for the purpose of building a new bite and a bright smile.
The strategically placed implants avoid the maxillary sinuses in the upper jaw and the mandibular nerve canal in the lower jaw, thereby avoiding the need for advanced bone grafting procedures.
By using the latest in virtual planning placement along with 3-D scan technology, the Dental Implant & Specialty Center minimizes any risk while creating a bright and natural looking smile that lasts for a lifetime.
Meet the All on 4® Specialists
The All on 4 procedure is performed by both Dr. Orphanos as well as Dr. Hescheles in our Boca Raton office. Getting to know your doctor before any procedure helps alleviate some of the stress and anxiety that comes along with any surgical procedure. Check out their individual bio pages for more information.
When you are ready to schedule your consultation, please give us a call at (561) 477-7171 and one of our office assistants will help schedule an appointment that is convenient for you or click the button below for office and contact information.