Three Specialists Under One Roof
Three Experts, One Opinion
Dr. Orphanos has teamed up with Dr. Hescheles and Dr. Prusakowski to create a dental all-star lineup who work together to take care of any dental procedure their patients may need. Because they come from highly specialized backgrounds, they bring a focused outlook to their patients as well as work collaboratively to make sure each case is examined expertly and thoroughly. Each of the doctors has embraced the technology of their trade with open arms and are true experts in their field with most up to date equipment.
Our team of experts
Dr. David Prusakowski, an endodontist, joined the practice in 2008. He is a specialist who uses advanced microscopes, which is a key factor for the success of his procedures. Dr. Craig Hescheles is a Periodontist who sub-specializes in LANAP laser procedures. Dr. Hescheles was sought out by the partners to bring his skill and expertise with the LANAP procedure to their office. The LANAP is a scalpel free procedure for the treatment of gum disease around teeth and implants.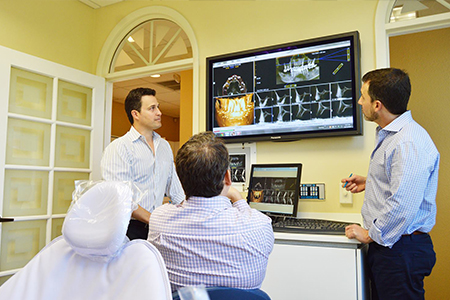 The latest technology
The Center 4 Smiles is the only dental office in the area to utilize 3-D capabilities, highly specialized microscopes and the LANAP laser all under one roof. As a dental specialty center, the three doctors collaborate to bring their multiple talents to each patient. All three doctors are always looking to exceed their patients' expectations.
Technology
Lasers
The Center 4 Smiles prides itself on having the most state of the art and technologically advanced lasers on the market today. The Periolase Laser has been proven to be the most effective laser available and numerous publications have raved about its performance. It remains the only laser that is effective at treating all of the following:
• Periodontitis (gum disease)
• Peri-implant mucositis (gum inflammation around implants)
• Peri-implantitis (gum and bone infection around implants)
• Periodontal bone regeneration around teeth
In most cases, the necessity for gum cutting is substantially reduced or actually eliminated due to the use of this laser.
3D X-Ray
As the most important piece of equipment in the dental field today, this is crucial for making 3-D analysis rather than just the 2-dimential view of x-rays from years past. The limitation of conventional x-rays creates cases where mistakes can happen and patients aren't happy. The 3-D scan eliminates limitations and makes for a fine tuned, precise and accurate analysis for your treatment. The reason most dental offices do not have a 3-D dental scan is because of cost, yet the team at Dental Implant & Specialty Center has spared no expense for their patient's treatment.
Benefits of using a 3-D scan
• Identifying a root canal problem that masques itself as a gum problem
• Identifying sinus infections as a result of a dental problem
• Identifying a resorptive lesion that masques itself as a root canal problem
• Identifying additional canals and roots that were left untreated by a previous root canal procedure
• Identifying bone infection that is present but without symptoms
• Identifying exact location of vital structures prior to implant placement
• Identifying exact location of impacted wisdom teeth position
• Identifying location of nerve in proximity to the impacted wisdom tooth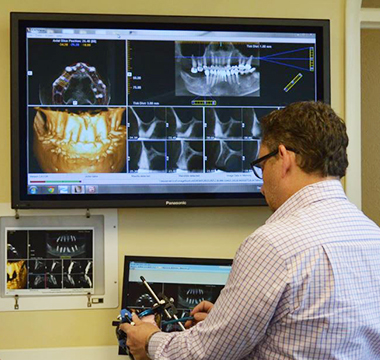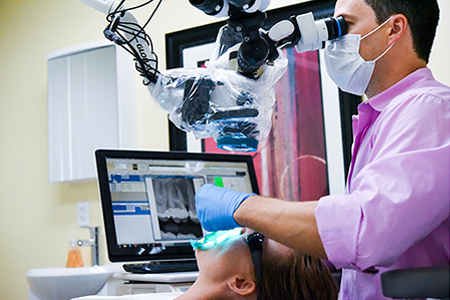 Piezo Unit
When it comes to procedures involving the manipulation of bone, it is absolutely imperative for the specialists to have a Piezoelectric Unit in the office. The Piezo machine has patented technology that minimizes, or eliminates, the need to heat the bone. Almost all procedures, except soft tissue grafting procedures, require dealing with bone. The ability to minimize over-heating of the bone will result in faster healing time, less pain for the patient and a better overall surgical experience.
Digital X-Rays
The digital x-ray has helped the dental field by allowing for immediate usage and minimizing radiation to our patients. With the latest generation software we can sharpen images and alter contrasts so the image is as close to perfect as possible. This virtually eliminates the need to retake x-rays.
Surgical Microscope
Magnification is absolutely essential for our patients and that is why we use microscopes that seamlessly integrate top quality optics with seamlessly functional maneuverability. It makes for highly detailed viewing of any dental case as well as creates the ability to properly see the minutest detail of any problem. Dental microscopes are a necessity for any dental specialty office.